News
October 13, 2022
<p>Paola will give a talk today at the International Conference of Systems Biology (ICSB 2022) in Berlin within the Machine Learning & Artificial Intelligence Session
</em></p>
June 20, 2022
<p>New paper! We introduce NETISCE, a novel computational tool for identifying cell fate reprogramming targets in static networks
</em></p>
June 20, 2022
<p>Welcome to Anna Kopec, our 2022 summer high school intern!
</em></p>
June 1, 2022
<p>Welcome to Alex Jones, Ananya Patil and Zuizz Saeed, our summer undergraduate students!
</em></p>
May 15, 2022
<p>Paola & collaborators received award from the Interstellar Initiative Alumni Program by the New York Academy of Sciences and Japan Agency for Medical Research and Development. See coverage in UConn Today news

</em></p>
April 14, 2022
<p>Lauren successfully defended her PhD thesis. Congratulations Lauren! We wish her a successful continuation with the last MD portion of her MD/PhD
</em></p>
January 1, 2022
<p>New paper on bioRxiv introducing NETISCE, a network-based cell reprogramming tool
</em></p>
July 31, 2021
<p>Congratulations to Lauren and her team for winning in the Best Tool category at the 2021 PhysiCell Virtual Workshop & Hackathon.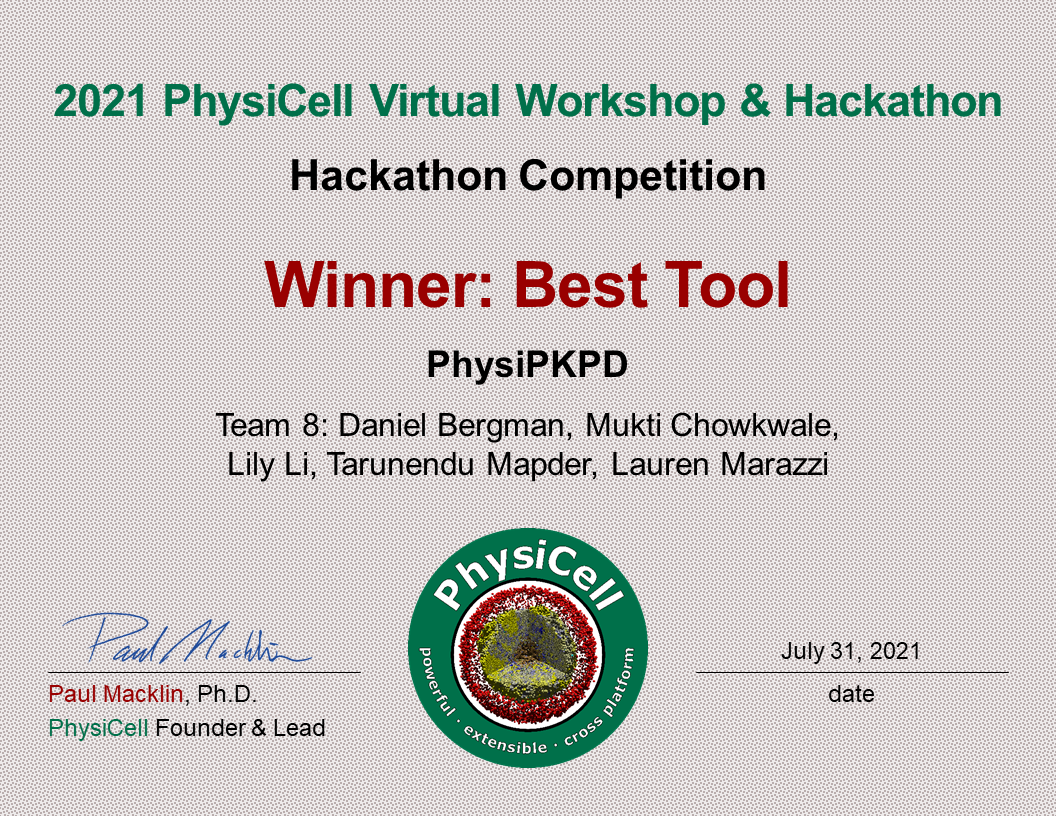 </em></p>
July 6, 2021
<p>Welcome to Ananya Patil and Milan Shah, our summer high school students!
</em></p>
June 25, 2021
<p>Paola will deliver invited talk at the NetBioMed 2021 Satellite Meeting as part of the Networks 2021: A Joint Sunbelt and (Network Science Society) NetSci Conference
</em></p>
May 17, 2021
<p>The paper on the role of MyD88 in macrophage mediated recognition and clearance of Lyme disease is published ! A wonderful collaboration with the Salazar Lab.

</em></p>
March 1-4, 2021
<p>Paola and Lauren will be at the INCOME 2021 Conference
</em></p>
January 9-10, 2021
<p>Lauren will present a poster at the ASPA Northeast Regional Conference
</em></p>
May 15, 2020
<p>Maddie successfully defended her honors thesis entitled A Quantitative Pipeline For The Identification of Combinations of Targets for Claudin-Low Triple Negative Breast Cancer Reversion. Congratulations Maddie!
</em></p>
December 11, 2020
<p>Paola will give a talk entitled A dynamical systems and control theory approach to cell reprogramming at the 9th Institute for Systems Genomics networking workshop.
</em></p>
December 3-4, 2020
<p>Lauren will present a poster at the (Computational Genomics and Systems Biology Symposium )
</em></p>
July 14, 2020
<p>Paola will deliver invited talk at the (Center for Reproducible Biomedical Modeling Seminar, Virtual)
</em></p>